There are limited practical vehicle options in comparison to pickup trucks. They have always been associated with one thing - "hard work". People use these type of trucks to finish various tasks, depending on the profession they are a part of - handyman, contractors, or construction workers. People employed in these professions have lots of tools at their disposal - easy access to all of these tools on the job site is essential, thus a safe place to store and organize them is required.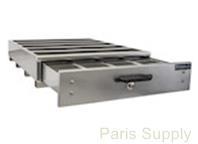 You wouldn't want tools, such as sockets, screwdrivers, and other big and small types of equipment kept loose in the truck - they can cause self-damage and can also damage the truck. When you leave tools and equipment out in the open, you are allowing people and the weather conditions to spoil or damage them in one way or the other. A truck bed slide out toolbox is the best solution to this problem - it offers a secure and locked space where your tools can be stored.
You will find a variety of truck bed slide out toolboxes on the market designed for trucks with different sizes and bed formations. Make sure you choose a toolbox that organizes and stores all your tools in a safe place and making them easily accessible at the same time.